Leadership
National President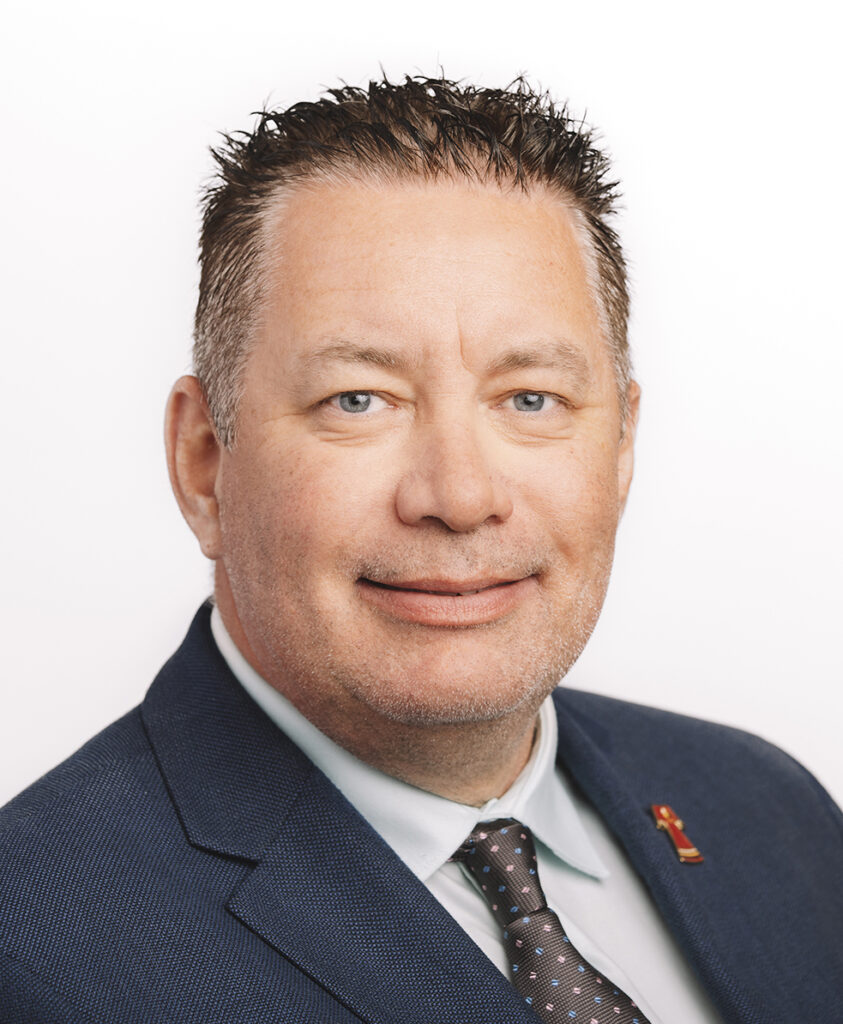 David Neufeld was first elected National President of the Union of Justice and Safety Employees at the USJE National Convention in Newfoundland in October 2021. He was re-elected for a three-year term in July, 2023. He has been a driving force behind USJE's first national campaign to educate Canadians about the vital work USJE members do to keep Canadians safe – including a series of innovative videos and a parliamentary engagement strategy designed to highlight the diverse voices of frontline public safety employees.   
Over his career, David has been a staunch unionist who defends workers' rights, fights for better working conditions and holds the federal government to account when it comes to the 18 departments who work under the Ministers of Public Safety and Emergency Preparedness.
David previously served as National Vice-President for USJE, 2014-2021, and Regional Vice-President (RVP) Correctional Service of Canada (CSC) Community – Parole Board of Canada (PBC) (West), 2007-2021. He holds a BA in Sociology and Political Studies, and completed a practicum in Youth Probation Services.
David first joined USJE when he began his work as a Community Parole Officer in the Winnipeg Urban Parole Office in 2001 and was elected Vice-President, Local 50081, Manitoba/ Northwestern Ontario Community Parole shortly thereafter.
It was at his first USJE National Triennial Convention in Halifax in 2005 where David was elected 1st Alternate for RVP CSC Community – PBC West. In 2007, he subsequently stepped into the Regional Vice-President position, a position he has held until he became President in October 2021.
During his tenure as National Vice-President from 2014, David focused on increasing direct engagement with members, including a comprehensive set of COVID-19 surveys of CSC members that resulted in improved safety measures and protocols in workplaces. He also served as chair of the USJE National Parole Officer Working Group, which in May 2019 released an in-depth report on the poor working conditions of Parole Officers, Protecting Public Safety: The challenges facing federal parole officers in Canada's highly stressed criminal justice system.
David has also appeared before several House of Common's Standing Committees, including Health (HESA), and the Public Safety and National Security committee (SECU). He has represented USJE on the Correctional Service of Canada's National Occupational Health and Safety Committee, the Advisory Committee on Community Safety and Operations, and the Community Parole Officer Resource Formula Working Group.
During the COVID-19 pandemic, he was a valuable contributor to the CSC's National Advisory Committee, their Operations Working Group and the Administrative Internal Services Working Group.
National Executive
The USJE National Executive is comprised of a full-time National President, a National Vice-President and 17 Regional Vice-Presidents (RVPs).
The National Executive is our union's governing body between National Triennial Conventions. Executive officers are themselves USJE members, directly elected by grassroots delegates at Convention.
The National Vice-President is elected from amongst the RVPs and, of course, casts only one vote at National Executive meetings.
Regional Vice-Presidents represent both specific groups of USJE members and defined geographical regions of the country.
The National Executive meets a minimum of twice a year to oversee the operation of the union and ensure it remains accountable to the membership. As required, the National President may also convene a National Executive conference call to deal with urgent or unanticipated events. More information on the authority of the National Executive can be found in Bylaw 6 of the USJE Bylaws.