Possible Strike
As you are aware, PSAC announced on April 12th that they had received a strong strike mandate on behalf of more than 120,000 federal government workers. Thank you for having provided our bargaining teams with this powerful bargaining tool.
Under the legislation, we have 60 days to call a strike following a favourable strike vote — meaning a strike could be called anytime between now and June 10. The union must provide the employer with 72 hours' notice before any strike action.
Below, we have extracted some of the most pertinent information from PSAC's extensive FAQ on the possible strike.
Strike Pay
$75 per day, non-taxable income (Members in the North are provided additional strike pay)
Members are expected to provide a minimum of four hours of picket duty (or other tasks as assigned by their Strike Captain) per day in support of the strike to qualify for strike pay.
PSAC will process strike pay weekly.
Union membership must be in good standing to receive strike pay. Union cards will be available at all picket lines and rand members will immediately become eligible for strike pay once a card is signed.
Top Up: locals may choose to top-up members' strike pay. Should a Local wish as of now to approve expenditures from their General Revenues to provide a "top up" for their members on the strike line, the Local should call for a Special General Meeting of the membership and provide a 15-day notice of such meeting.
Picket line crossing – not optional
We are aware that some departments and managers are sharing information that encourages PSAC members to continue working in the event of a strike. This is a union-busting tactic that aims to undermine our efforts to secure a fair agreement for all workers — including wages that keep up with the rising cost of living and don't force you to take a pay cut.
Only essential workers in possession of an essential worker letter may cross the picket line. Please ensure to treat your Essential colleagues, as well as members of other unions, with respect.Any members who cross a picket line without appropriate Essential designation can face disciplinary action under Article 25 of the PSAC Constitution. Penalties for such violation can include fines and suspension of union membership – which can then disentitle employees from certain negotiated benefits like signing bonuses.
About remote work
Remote work or telework simply allows an employee to work from home rather than from a specific worksite. Continuing to work remotely during a strike is considered crossing the picket line and is a violation of section 25 of the PSAC Constitution. Members who normally work remotely should join their nearest picket line with their coworkers. If a member who works remotely requires accommodation, please contact your Regional Vice President and your PSAC Regional Office.
Remember: Union members that stick together, win together.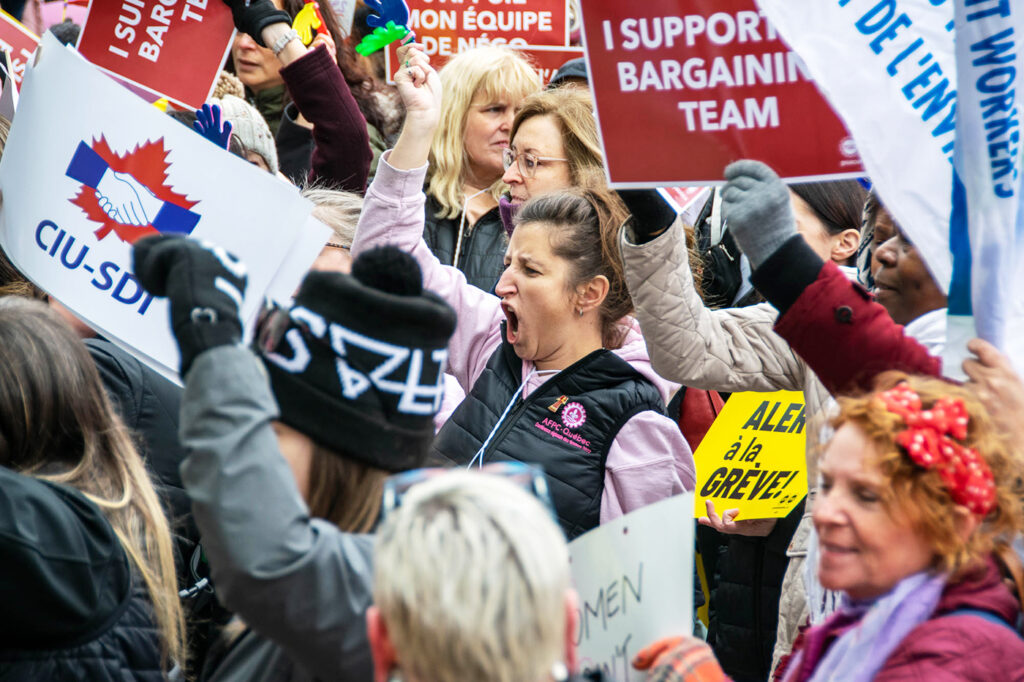 Press Conference
Monday, April 17th at 9:00 a.m Eastern
A press conference will be held this Monday to provide an update to the media on Treasury Board bargaining. Please note that the press conference will be streamed live on the PSAC Facebook page.