National President David Neufeld and Regional Vice-President (RCMP, National Capital Region) Sonia O'Brien-Colterman attended the RCMP Breeding Program stables in Pakenham, Ontario on March 18th. This visit provided the opportunity for Neufeld and O'Brien-Colterman to meet with this small section of USJE members and to learn about the important work they perform at the stables.
The USJE representatives were impressed by the farm facilities that have been in Pakenham since 1968. The farm is home to some of the finest Hanoverian horses in Canada. The RCMP reports having about 15 brood mares, 2 stallions and 30 young, developing horses at the facility.
Neufeld and O'Brien-Colterman were given a complete tour of the facility by a site supervisor who also happens to be a USJE member! During the tour, it was evident that the welfare of the horses is always the number one priority. Our members assist with the birth of the foals and care for the brood mares. They are also responsible for doing the initial assessments on foal temperament and suitability for the musical ride.
USJE members monitor the overall care and well-being of all the horses and work various schedules so they can always be on site caring for the animals. They address any issues immediately and call a veterinarian as required. All members are also involved in maintaining the grounds of the farm. It is our USJE members that truly make this farm a world-class horse breeding facility.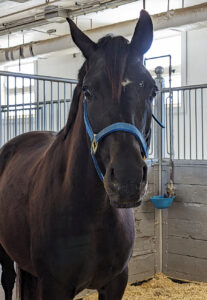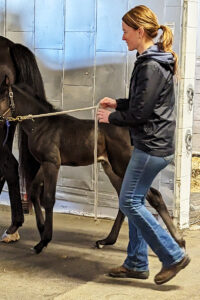 The USJE members on site demonstrated a strong pride in their work and expressed that it was an honour to work for the RCMP.
While meeting with members, Neufeld and O'Brien-Colterman were encouraged to see the level of interest in engaging with their union. Commitments were made to assisting the section membership to better understand their Collective Agreement and providing union training to those who may choose to get involved with their section. O'Brien-Colterman is planning to visit the site again to help this section operate efficiently and to resolve workplace health and safety concerns at the lowest level.
As foaling season is coming up quickly, these USJE members will be very busy! 
USJE is very proud of these members at the RCMP stables who perform a very unique function in the RCMP. We look forward to working with them in the future and to help make their workplace a healthy and safe one.