This USJE event was the occasion for members from the Quebec region to connect with each other while meeting their colleagues from the public safety realm in a fun and exciting setting that celebrated the recent achievements of our union.
In fact, the event was a timely occasion to emphasize the urgency for the House of Commons to adopt proposed changes to the federal Government Employees Compensation Act (GECA) in order to close a major gap in presumptive injury coverage for federal public safety personnel.  A Private Member's Bill has been introduced by NDP Peter Julian but USJE is urging the current government to proceed with the legislative changes in its upcoming federal budget.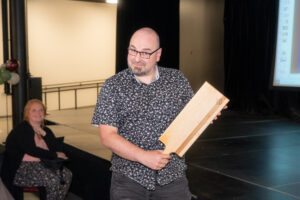 In attendance were several Parliament Members from the Bloc Québécois, including Kristina Michaud who took the time to travel from Matane to attend. Louise Chabot, MP from the nearby riding of Thérèse-de-Blainville and long-time ally of USJE was present along with Martin Champoux from Drummond and Marie-Hélène Gaudreau from Laurentides-Labelle. Bloc MPs were asked to consider the amendments to the Government Employee Compensation Act contained in Bill C-357 sponsored by New-Westminster – Burnaby MP Peter Julian. Over 100 members from the wider Montréal area were present.
National President David Neufeld addressed the participants with a heartfelt speech in French in which he thanked the Québec members for their exceptional mobilization drive during the historic PSAC strike of April 2023.
University of Montreal Professor Angelo Soares was invited to share the preliminary results of his ongoing study on the LEAN management methods currently in use by many departments and agencies within the federal public service, including the federal Correctional Service of Canada. . Professor Soares' study is extensive and will continue in the coming months.
A senior director with the organization Le Parados – which provides an extensive array of support tools for women living in abusive conditions – also had the opportunity to present an overview of their work. USJE has contributed 10.000$ to Le Parados through USJE's National Community Investment Initiative. Members broke into applause twice during the presentation, swayed by the dedication of the presenter.
Finally, Sylvain Ladouceur from the Fonds de Solidarité of the FTQ had a chance to remind members of the Fonds' exceptional impact of the resilience of the Québec economy and how their contribution to it can help them in times of inflation.
Sasha Ouimet, USJE member, was the MC for the evening.